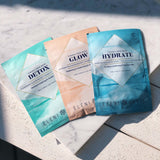 We have combined our best selling sheet masks in a trio to include a Glow, Hydrate and Detox sheet mask. The sheet masks are created with ultra-fine long fibers that leave your skin silky smooth. The Glow masks brightens, Hydrate moisturizes and Detox purifies.
Each mask energizes and illuminates the complexion's appearance by helping replenish dull and dry skin. Skin texture is left looking smooth, hydrated and radiant.
Free shipping on all orders. Delivery time: 4-7 days.